Western Decor Corporation Public Co., Ltd. (the "Company," "we," "us," or "our"), recognizes the importance of the protection of personal data for you of our products and services. The goal of this Cookie Policy is to give you a better understanding of how your data is collected, used, transferred, and disclosed in both of our web-based applications and mobile applications which run external to a browser ("Website"). We want to ensure you also know how to check what cookies we are using, allowing you to more control.
Below we categorize the types of cookies we use to give you a better understanding of why we use these cookies, or work with services which use these cookies.
The information you share with us or with our partners through cookies allows us to provide the products and services you need and want, tailored for you. We appreciate your trust that we will carefully and sensibly handle your personal data while giving you the very best personalized experience and customer services.
1. What are cookies and why do we use them?
Cookies are small pieces of information or text placed on your computer when you visit a website. Some cookies are strictly necessary to enable the site to function properly. Other cookies allow us to enhance your browsing experience, gain a better understanding about your use of our Website, tailor content to your preferences, and make your interactions with the site more convenient.
In addition, cookies are used to help personalize your interactions with our content on other websites (translation: advertising) based on your behavior on our site.
2. What types of cookies do we use?
We use the following types of 1st Party Cookies and 3rd Party Cookies, which are described below. To understand better about 1st and 3rd Party Cookies:
1stParty Cookies are cookies which are created by us, for reasons listed in the table below. The data will only be sent back to our Website and servers.
3rdParty Cookies are cookies which are created by the partners we use. Cookie data will be shared with those partners to enable the features and services they provide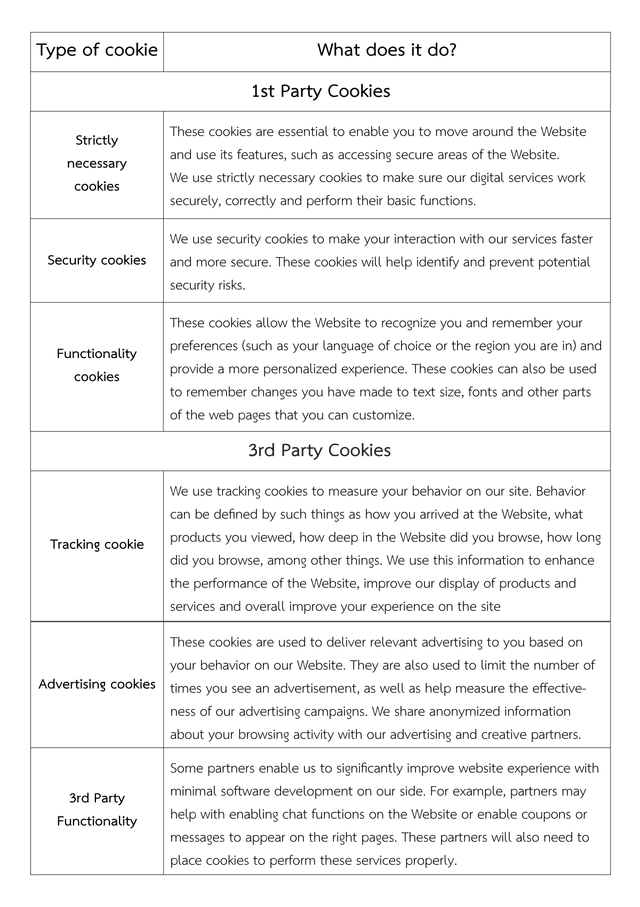 3. How can you control cookies?
Most Internet browsers allow you to control whether to accept cookies, or you can download 3rd party "extensions" which give you precise control of your cookies. Due to the nature of some cookies, rejecting, removing, or blocking these cookies can affect your user experience and may block your ability to use some or all of the features or areas of our Website. If you would like to delete any cookies or if you change your mind, please refer to your browser's settings or options page, or search for instructions using your favorite search engine.
Because applications do not run in a browser, the way to control the data shared is different, and different by your phone brand, model, or software. The two most common phone software, iOS and Android, have tools to enable you to control what is shared by apps, at an individual app level. Please refer to the settings of your phone to understand what control is available to you.
4. Our Contact Details
If you have any questions about our use of cookies, please contact us at:
1) Company Name
Western Decor Corporation Public Co., Ltd.
1168/81-82 27th Floor Lumpini Tower
Rama 4 Rd., Tungmahamek, Sathorn,
Bangkok 10120
info@wdc.co.th